Becoming a CPA in Connecticut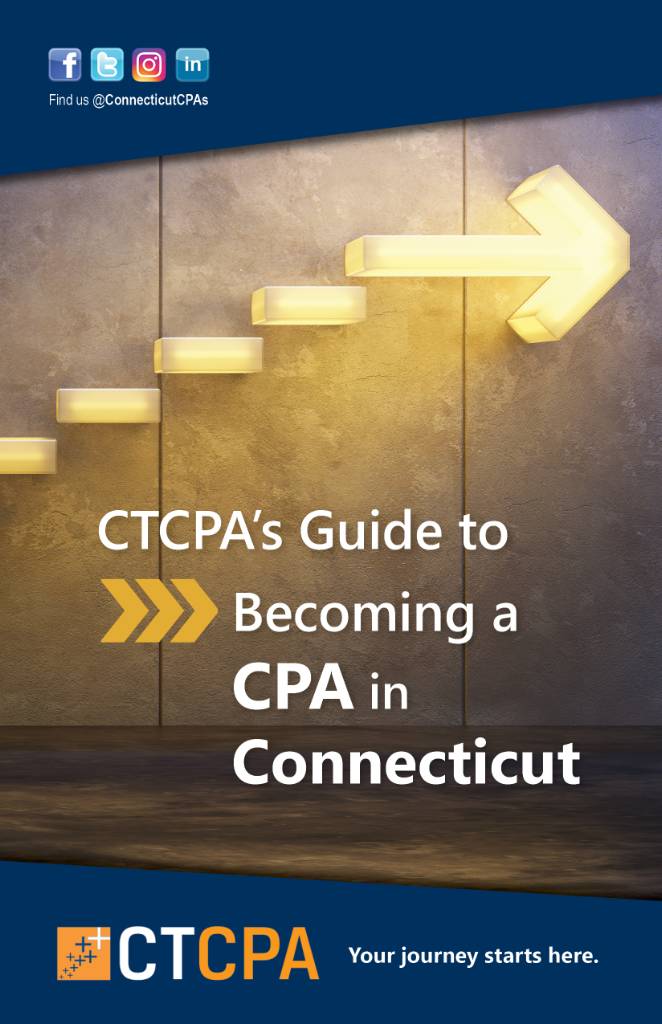 Welcome to the journey to becoming a Connecticut CPA.

The CPA credential can bring so much value to your career – opportunity, prestige, not to mention the potential to earn up to $1 million more over the course of your professional life! The path is well worth it, but it does come with hard work and attention to detail to make sure you meet all the requirements. That's where the Connecticut Society of CPAs (CTCPA) comes in!
We've learned so much answering questions from aspiring CPAs over the years that it just made sense to write it all down. So here it is – your five-step handbook to anything and everything you need to know about becoming a Connecticut CPA.
If you have questions, please reach out to the CTCPA Membership Team at membership@ctcpas.org or call 860-258-4800 and press 2.
How can we help?
FAQs and Resources
Where can I find all the forms I need?
I have questions. Who should I contact?
The CTCPA Membership Team is at the ready to help! Reach out to us with any questions at membership@ctcpas.org or call 860-258-4800 and press 2.
There are a lot of organizations and companies you'll encounter along the way, between scheduling your exams and applying for your license. You can also check out this reference guide of the key players.
How can CTCPA membership help me?
Where can I get an accounting degree in Connecticut?
Where can I get scholarships to help pay for my education or taking the CPA Exam?
How can I find out more about what will be on the CPA Exam?
Download the CPA Exam Booklet for details and advice.
All parts of the exam are computerized and test your level of accounting knowledge.
There are four sections:
Auditing and Attestation (AUD),
Business Environment and Concepts (BEC),
Regulation (REG), and
Financial Accounting and Reporting (FAR).
How can I find and save money on CPA Exam review courses?
CTCPA student members can take advantage of exclusive discounts from top providers. Learn more.
How can I purchase the Ethics Exam?
Once you've got the degree, gained the experience, passed the exam... there's just one more step! You just need to pass the AICPA Professional Ethics for CPAs self-study exam (available for purchase, by members and nonmembers, from the CTCPA) with a score of 90 or better.
The ethics exam is an online product - you simply watch OnDemand videos and take the ethics exam online.