Connecticut CPA Magazine Excerpt - To Thrive in the Future, Finance and Accounting Must Embrace Diversity, Equity, and Inclusion

By Loreal Jiles, Director of Research – Digital Technology & Finance Transformation, Institute of Management Accountants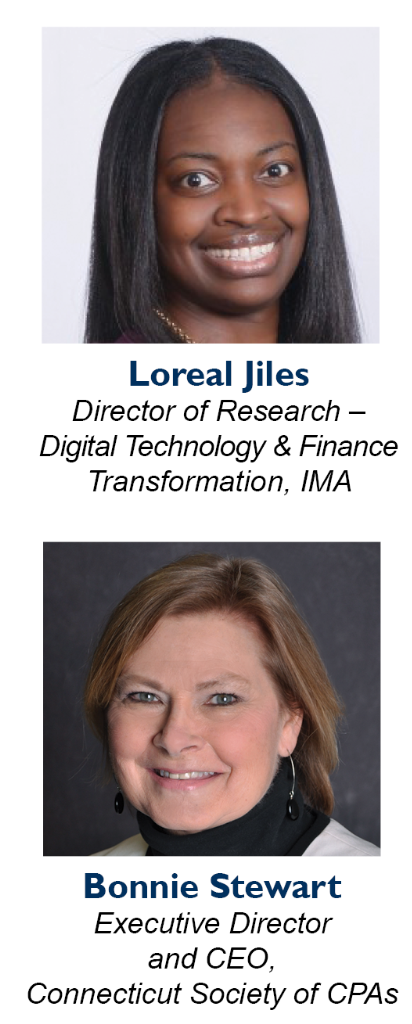 America is changing. According to the 2020 Census, the proportion of the population identifying as white alone has fallen below 60%. The future of our workforce will be more racially and ethnically diverse. This demographic shift coincides with greater consciousness around Diversity, Equity, and Inclusion (DE&I) and extends to women and persons of other underrepresented demographic groups.
These rapidly evolving dynamics prompt increased demand for changing the way organizations are run, and ask that management be more attuned to issues impacting people from underrepresented groups.
A recent research study co-sponsored by the Institute of Management Accountants (IMA) and the California Society of CPAs (CalCPA), "Diversifying U.S. Accounting Talent: A Critical Imperative to Achieve Transformational Outcomes," found that the accounting and finance profession faces a DE&I challenge: the senior leadership of our field is not nearly as diverse as the broader profession, and many persons from underrepresented groups leave our profession because of a lack of equity and inclusion.
This was a wakeup call to finance departments and accounting firms across the country. In a population that is becoming more diverse and conscious of DE&I, how can our field continue to thrive without appealing to the workers of the future?
I spoke with Bonnie Stewart, Executive Director and CEO of the Connecticut Society of CPAs (which served as a key research contributor to our U.S. DE&I study) about the findings, challenges faced by our field, and how we can work together to drive change – and secure our future.
---
Loreal Jiles: DE&I has historically been seen through the lens of social equity and justice. But do you see there being tangible business benefits to DE&I as well? If so, how does the lack of DE&I in the finance and accounting field undermine businesses?
Bonnie Stewart: Study after study demonstrates that accounting and finance organizations that are more diverse have greater performance. According to a McKinsey & Company study, gender diverse organizations generally have a 15% greater likelihood of outperforming their peers, and ethnically diverse organizations are 35% more likely to have higher financial returns when compared with others in their sector.
Moreover, the data shows that diversity in a business team leads to increased innovation, positioning the organization for increased growth. Fostering an environment where team members feel free to voice differing ideas and make decisions will ultimately encourage them to become more invested in the organization's success, as well as help retain top-tier talent.
Our profession is evolving and changing at a rapid pace. If we do not start making progress related to DE&I, we will be running an uphill battle. According to page one of the report "Diversifying U.S. Accounting Talent," while we have made significant progress recruiting women in the profession, we fall short when it comes to persons who are Hispanic/Latino and Black. We have work to do, and it's not just the accounting and finance community – the business community as a whole needs to focus on DE&I efforts.
As the world battles for talent, the accounting profession has already been dealing with pressure on our pipeline. We need to step up to the plate and make sure we have meaningful DE&I initiatives in place now, while also developing future programs. Trying to bring individuals from a wide variety of backgrounds and experiences into our profession should be a common goal.
As workplace demographics shift and Millennials and Gen Z continue to make up a larger percentage of the workforce, employers must rise to meet the culturally diverse environment future generations of talent will demand.
One of the issues raised in the report "Diversifying U.S. Accounting Talent" is that while the nation as a whole is becoming rapidly more diverse and there have been noteworthy increases in diversity in some demographic categories in the accounting and finance profession, a significant diversity gap exists between senior leadership and the profession more broadly. How does this pose a challenge to our field and to businesses more broadly?
It is important to point out that while we have increased the number of women in accounting, we still see the lack of women in leadership roles. According to page seven of the report, in 2019 only 13.9% of sitting CFOs of Fortune 500 and S&P 500 Companies were female, while Hispanic or Latino and Black and African American individuals in those roles was below 2%.
These numbers speak volumes. While gender is important, we need to understand that ethnic diversity is just as and even more important.
In order to encourage diversity in our leadership structure, we need to identify individuals who have qualities or skills that would make them good leaders and put in the effort to develop them. I challenge current senior leaders to more boldly and innovatively approach growth in your organizations and commit to finding ways to develop a diverse group of leaders for the future.
As a profession, we are a cutting-edge group of professionals with keen skills, but we need new ideas and people to help lead them, especially if they vary greatly from the status quo.
How can organizations not just recruit from a more diverse talent pool, but retain valuable staff from underrepresented groups? What types of DE&I initiatives are necessary and beneficial to organizations?
Pulling from a diverse talent pool of underrepresented groups demonstrates that your organization is forward-thinking and inclusive, which is very attractive to job seekers in today's market. As more organizations understand and embrace the value of DE&I, they will more actively recruit a more diverse workforce.
Recruiting a diverse talent pool does not mean organizations will be more effective in terms of employee retention. Research shows that it is imperative that organizations are intentional about taking specific steps to ensure people of diverse backgrounds have equitable access to the factors that enable career progression. Establishing processes to ensure fair and inclusive promotion practices, granting robust development opportunities to all staff, and employing bias-free succession planning and internal recruitment efforts are a great start.
In addition, it is imperative to have an effective onboarding process to welcome new employees. Make sure new (as well as existing) team members know where they can ask for guidance or help, or who they should approach with new ideas. Encouraging people from all areas of the company to speak up could lead to an unexplored path that might have a major impact on your organization's trajectory.
What insights would you offer to CTCPA members on how they can help drive DE&I initiatives at their organizations, especially senior leadership? How would you emphasize the importance of DE&I to leaders who may not grasp its full importance to long-term business viability?
Improving DE&I is important because it's the right thing to do. Accountants are already bound by ethical commitments to act with integrity, be fair in business conduct, and make judgments free from bias. Committing to DE&I improvement is an extension of that ethical obligation. Further, it contributes to bringing organizations a competitive edge. Studies show that the entire workforce is happier when their organization is more diversified. Diverse organizations are less likely to stay stagnant and more likely to have a higher growth potential.
The effort it takes to make someone feel included and engaged can start with simple steps; the first goal should be to ensure your entire staff feels like part of a team. As Kimberly Ellison-Taylor, Global Technology and Financial Leader and Past Chairman – AICPA, said as the keynote speaker at the 2021 CTCPA Women Awards, "We don't need our male counterparts to give up their seat at the table. We need them to scootch over. We need a bigger table."
This analogy of a "bigger table" can reach throughout your DE&I efforts. You don't need to start with a sophisticated, expensive plan. You just need to identify ways to ensure team members across the organization are equally included in strategic discussions and leadership training opportunities, and that they know that you appreciate the value they add to your organization.
We want our members to know we are here to help and have resources available as they work to achieve their goals.