Interview Day Hiring Company Information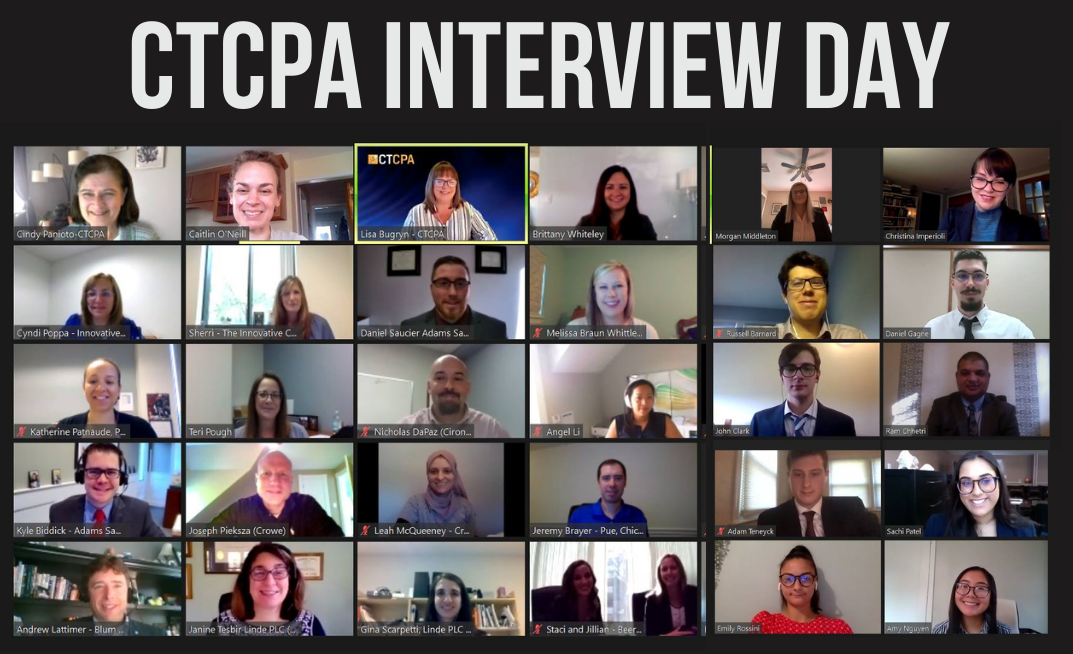 Friday, October 1 from 8 a.m. to 5 p.m. • Virtual Event
Looking for quality interns and new hires?
CTCPA's popular Interview Day event returns to connect you with a hand-selected group of Connecticut's best and brightest accounting majors. You'll have the opportunity to interview up to 10 students in one day at this unique virtual event.
How does it work?
Reserve your space online. Space is limited and is available on a first-come, first-served basis.
You'll receive student information packets (including resumes, essays, and areas of interest) in mid-September to review and give us your top picks.
Students will confirm their interest in your opportunity.
We'll schedule virtual interviews in 35-minute increments on Friday, October 1.
Students will be hand-selected by accounting faculty at colleges and universities across the state and must meet the following minimum criteria:
Four-Year College Student Eligibility Requirements
Accounting majors with anticipated graduation dates of December 2021, May 2022, December 2022, or May 2023.
Overall GPA of 3.0 or higher.
Must not already have a full-time work commitment.
Must be a U.S. citizen.

Community College Student Eligibility Requirements
Should have the following core foundation classes completed before anticipated start date: QuickBooks, Federal Income Tax 1 and 2, Managerial Accounting, Financial Accounting, and Computer Software Applications.
Overall GPA of 3.0 or higher.
Must be a U.S. citizen.

Company registration includes up to 10 virtual interview slots and access to resumes and contact information for all student participants.