Interview Day Student/Educator Information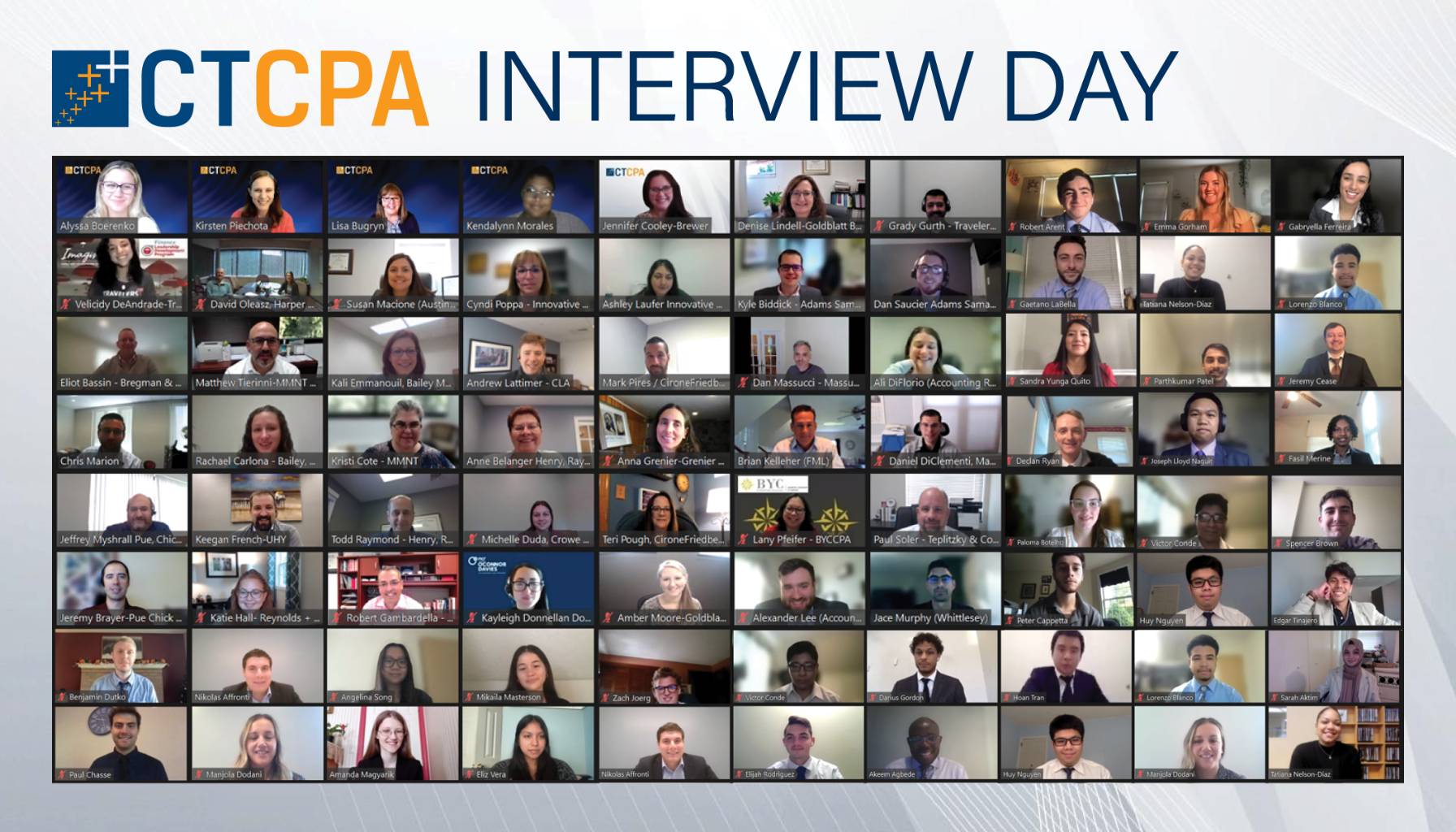 Friday, September 29 from 8 a.m. to 5 p.m. • Virtual Event
Accounting Educators: Help Your Students Get Hired!
Your school is invited to hand-pick your best and brightest accounting students to participate in CTCPA's successful Interview Day program. Students will have the opportunity to interview with up to 10 companies in one day at this unique virtual event.
How Does It Work?
Accounting faculty select students from their school to participate in the program.
Students will be asked to submit a resume, essay, and information sheet.
Employers will review the student information and select the individuals they would like to interview.
Students will be asked to confirm their interest in the firms requesting interviews.
We'll schedule up to 10 individual 35-minute virtual interviews for each student.
Four-Year College Student Eligibility Requirements
Accounting majors with anticipated graduation dates of December 2023, May 2024, December 2024, May 2025, December 2025, or May 2026.
Overall GPA of 3.0 or higher.
Must not already have a full-time work commitment in the accounting profession.

Community College Student Eligibility Requirements
Students should have the following core foundation classes completed before anticipated start date: Financial Accounting, Managerial Accounting, Intermediate Accounting I, Federal Tax I, and Accounting Computer Applications (QuickBooks)
Must not already have a full-time work commitment in the accounting profession.
Overall GPA of 3.0 or higher.

We're looking for motivated, high-quality students who will best represent your school to the profession's hiring managers.

Educator Participation Responsibilities

1. Select students from your school to participate.
2. Collect and return student participation information by Tuesday, September 12 at noon. Educators should collect the following required materials from each student and submit them via email to Lisa Bugryn at interviewday@ctcpas.org:
The Student Information Form (fillable PDF document). Please download and distribute the form electronically to each of the students you have selected to participate. Students should complete the form electronically.
A professional resume.
An essay of 300 words or less explaining what contributed to the student's decision to major in accounting and pursue a career in accounting. How has their perspective changed over the course of their education or been influenced by internship, work, or community experience?
3. Ensure students adhere to interview confirmation deadlines.
Students will be notified via email and required to confirm their interest in the companies requesting interviews by the specified deadlines. Final interview appointment schedules will be emailed and must be confirmed by students on Monday, September 25.
Due to the time-sensitive nature of this event, some quick turnaround will be required during the interview scheduling process. Educators will be cc'd on any email communications with students and should ensure that students adhere to the program deadlines.
Students who do not adhere to the deadlines will forfeit the opportunity to participate in Interview Day.
CTCPA cannot guarantee that all students will receive interviews and/or job/internship offers. Selection is at the sole discretion of the companies' hiring managers.