27 Residents Graduate in 2022 Class of Connecticut Professionals' Leadership Academy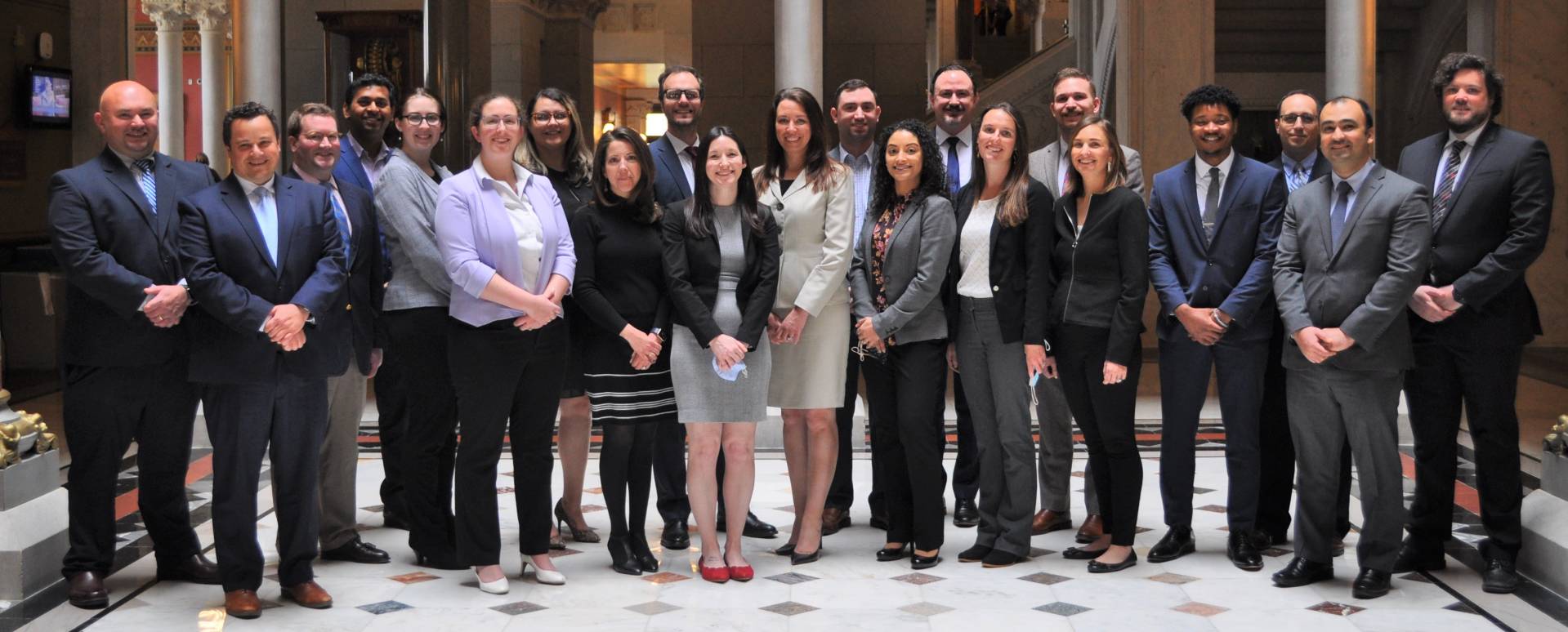 This spring, 27 Connecticut residents graduated from the 2022 Connecticut Professionals' Leadership Academy, a program designed to strengthen leadership skills, develop and build relationships, and create a collaborative professional services community. This landmark program brings together professionals from various industries and backgrounds, including accounting and finance, law, insurance and architecture.
The program, focused on the next generation of business leaders, was presented in partnership with six professional organizations:
American Institute of Architects, Connecticut,
CFA Society Hartford,
Connecticut Bar Association,
Connecticut Society of Certified Public Accountants,
Connecticut Young Insurance Professionals, and
Hartford County Bar Association.
"The continued success of this collaborative leadership academy is a testament to the strengths and talents of these up-and-coming professionals and the organizations they represent. The leadership skills and relationships they have formed will serve them, their employers, and our community well as they lead through an ever-evolving environment today and into the future," said Bonnie Stewart, CTCPA Executive Director and CEO.
"The Connecticut American Institute of Architects (AIA Connecticut) is proud to support, encourage, and develop the next generation of leaders," said Gina Calabro, Executive Director and CEO of AIA Connecticut. "It is a wonderful opportunity to collaborate with these esteemed Connecticut professional organizations and to offer leadership skills and relationship building for career advancement. We look forward to the future contributions that our academy graduates will make as they continue on this path."
The program encourages participants to help evolve and grow their careers and industries, professional association groups and companies through dynamic sessions including Legislative Day at the Capitol, Personal Branding, How to Lead a Team Effectively and Efficiently, Business Finance 101, and a Lean Principles and Practices Team-Building Workshop.
Applications Open in October for the 2023 Connecticut Professionals' Leadership Academy
Program application is open to early to mid-career professionals who are members of the partnering organizations seeking leadership training to propel them to the next level of their career. Learn more at www.ctcpas.org/LeadershipAcademy.
Congratulations to These 2022 Connecticut Professionals' Leadership Academy Graduates:

American Institute of Architects, Connecticut
Brigid Abraham of Branford – Pickard Chilton
Brian Baril of Suffield – A/Z Corporation
Matthew Gallerani of New Haven – Silver Petrucelli + Associates
Karen Parzych of West Hartford – The SLAM Collaborative
Utkarsh Patil of Glastonbury – Russell & Dawson, Inc.
Melissa Spiga of Simsbury – CHK Architects
Jillian Winterkorn of Shelton – Eversource

CFA Society Hartford
Richard Carey of Farmington – Fiducient Advisors
Michael Kelly of Madison – Switchback Financial
Kate Pizzi of Avon – Fiducient Advisors

Connecticut Bar Association and/or Hartford County Bar Association
Jenna Cutler of Hamden – Wiggin and Dana, LLP
Theresa Rose DeGray of Milford – Consumer Legal Services, LLC
Vianca Malick of Manchester – Diana, Conti & Tunila, LLP
Nia Chung Srodoski of Glastonbury – Law Office of Nia Chung Srodoski
Erin O'Neil-Baker of Columbia – O'Neil Baker Law, LLC
Nicholas Ouellette of Canton – Kurien Ouellette LLC
Robert Yeager of Granby – Gorman, Herrmann, and Menard, PC
Jim Zimmer of Manchester – Jacobs, Walker, Rice & Barry, LLC
Connecticut Society of Certified Public Accountants
Phillip Daye Jr. of Windsor – Deloitte
Michael DiPietro of Southington – Lane Construction
Destiny Hartmann of Manchester – Fiondella, Milone & LaSaracina LLP (FML)
Lauren Hennessy of Bridgeport – Beers, Hamerman, Cohen & Burger, PC
Angelo Lombardo of Southington – CliftonLarsonAllen LLP
Alyssa Sargent of East Hartford – Travelers
Shyam Shiwakoti of West Hartford – Kaman Corporation
Matthew Zalewski of Burlington – Deloitte
Connecticut Young Insurance Professionals
James Kannengeiser of Stratford – Hagerty
# # #