28 Residents Graduate in 2021 Inaugural Class of Connecticut Professionals' Leadership Academy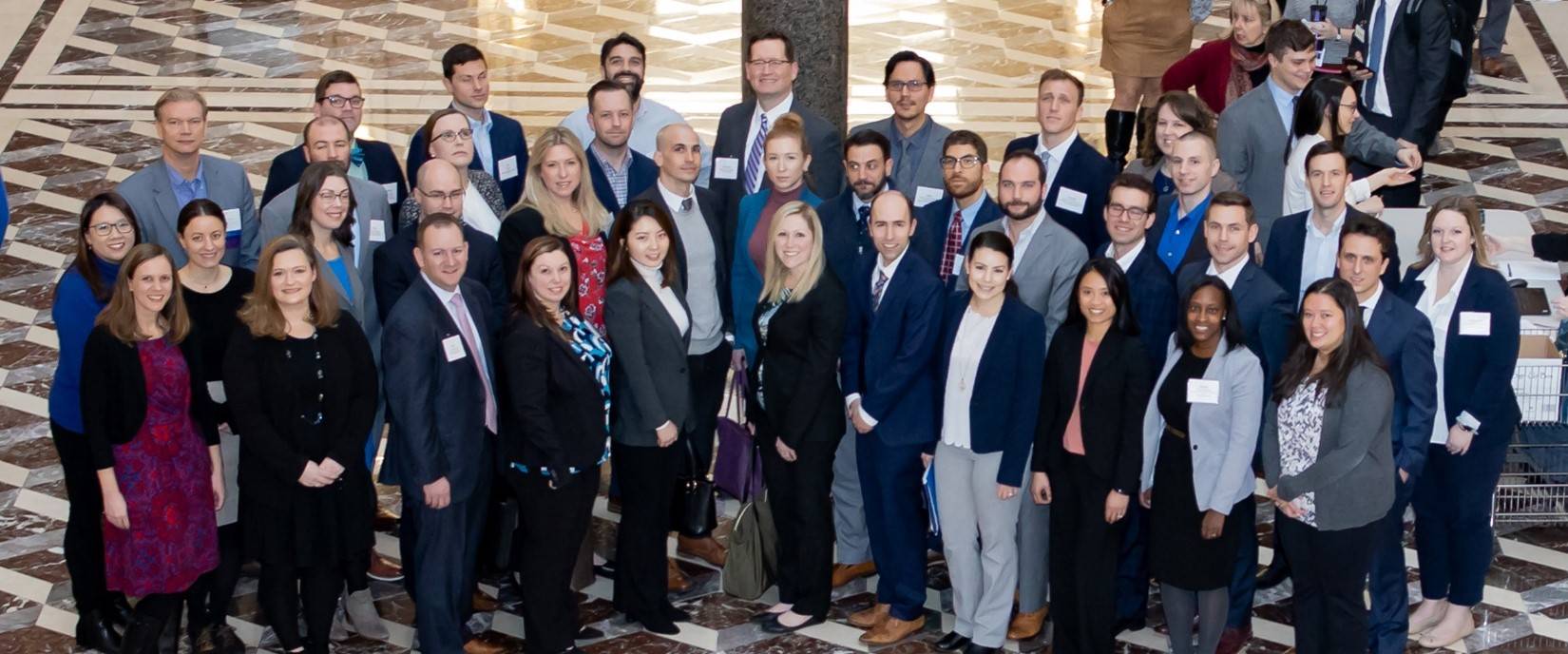 This fall, 28 Connecticut residents graduated from the inaugural class of the Connecticut Professionals' Leadership Academy, a program designed to strengthen leadership skills, develop and build relationships, and create a collaborative professional services community. This landmark program brings together professionals from various industries and backgrounds, including accounting and finance, law, insurance and architecture.
The program, focused on the next generation of business leaders, was presented in partnership with seven professional organizations:
American Institute of Architects, Connecticut,
CFA Society of Hartford,
Connecticut Bar Association,
Connecticut Society of Certified Public Accountants,
Connecticut Young Insurance Professionals, and
Hartford County Bar Association.
"This inaugural group of outstanding emerging leaders dedicated the time and energy to transform together through unprecedented times. They cultivated forward-thinking leadership skills to help them lead through change today and into the future," said Bonnie Stewart, CTCPA Executive Director and CEO.
"The Connecticut Bar Association is proud to participate in this collaborative effort to develop and promote the next generation of professional leaders," said Cecil J. Thomas, President of the Connecticut Bar Association. "Our interdisciplinary approach draws upon the strength and wisdom of our respective organizations to ensure a fuller and richer investment in the future. The participants in this inaugural class have already distinguished themselves in so many ways, and we look forward to the great contributions that they will undoubtedly make in the years ahead."
The program encourages participants to help evolve and grow their careers and industries, professional association groups and companies through dynamic sessions including Legislative Day at the Capitol, Personal Branding, How to Lead a Team Effectively and Efficiently, and a Lean Principles and Practices Team-Building Workshop.
Applications Open October 18 for the 2022 Connecticut Professionals' Leadership Academy
Program application is open to early to mid-career professionals who are members of the partnering organizations seeking leadership training to propel them to the next level of their career.
Applications are open October 18 - November 18. Learn more and access the application at www.ctcpas.org/LeadershipAcademy.
Congratulations to the These Inaugural Connecticut Professionals' Leadership Academy Graduates:
American Institute of Architects, Connecticut
Max Ernesto Ballardo, Associate AIA, NOMA, LEED GA of Hamden – Patriquin Architects
Emily Ky, AIA of West Hartford – The SLAM Collaborative
Kevin D. Levesque of Glastonbury – Babbidge Construction
Susan Bridgewater Odell, AIA, CPHC of East Haddam – Paul B. Bailey Architect, LLC
Catherine S. Young, AIA, CPHC of Middletown – George Penniman Architects, LLC
CFA Society of Hartford
Tucker Childs, CFA of West Hartford – Bradley, Foster & Sargent
Ian Green, CFA of West Hartford – Greenlight Retirement Plan Consultants
Connecticut Bar Association and/or Hartford County Bar Association
Jeremy Brown, Esq. of Longmeadow, MA – Costello, Coombes & Brown, LLP
Cindy M. Cieslak, Esq. of West Hartford – Kallor, LLP
Carrie M. Coulombe, Esq. of Windsor Locks – Chubb
Tyler A. Dew, Esq. of West Hartford – Szilagyi & Daly
Aigné Goldsby, Esq. of Cromwell – Goldsby Law, PLLC
Cody N. Guarnieri, Esq. of South Windsor – Brown, Paindiris & Scott
Kimberly Taylor Smith, Esq. of Stamford – Brody Wilkinson PC
Connecticut Society of Certified Public Accountants
Eliot M. Bassin, CPA, CFE of West Hartford – Bregman & Company, P.C.
Alaina Clausen, CPA of Glastonbury – Starling Physicians
Alex Clausen, CPA, CFE of Glastonbury – CohnReznick LLP
Katherine Donovan, CPA of Bloomfield – Whittlesey
James C. Hallinan, CPA of West Hartford – Jim Hallinan Pension Consulting, LLC
Hillery Lundell of East Granby – Bennett & Company, P.C.
Kariann McDougall, CPA of Torrington – Marcum LLP
Paul Morrone, CFP®, CPA/PFS of Branford – U.S. Wealth Management New Haven
Stephen Newman, CPA of North Granby – Newman Business Advisors LLC
Ryan Parent, CPA – Beers, Hamerman, Cohen & Burger, P.C.
Kirsten Piechota of Harwinton – Connecticut Society of CPAs
Taylor J. Shirk, CPA of Miami Beach, Florida – RSM
Christine Yip, CPA of Fairfield – Marcum LLP
Connecticut Young Insurance Professionals
Ryan M. Keating, CIC of West Hartford, Keating Agency Insurance
# # #